Welcome to Managed Networks. For less than the price of a cup of coffee a day, this service protects your critical IT systems and helps keep your business running
Common issues we help you solve include
Downtime
Virus attacks on your network and PCs
Attempts to hack into your network
Slow internet connection
Lack of access to important data
Are these problems you need solved?
We Can Help
What might seem like a small IT problem can often lead to a major business headache. Managed Networks prevents this through four core services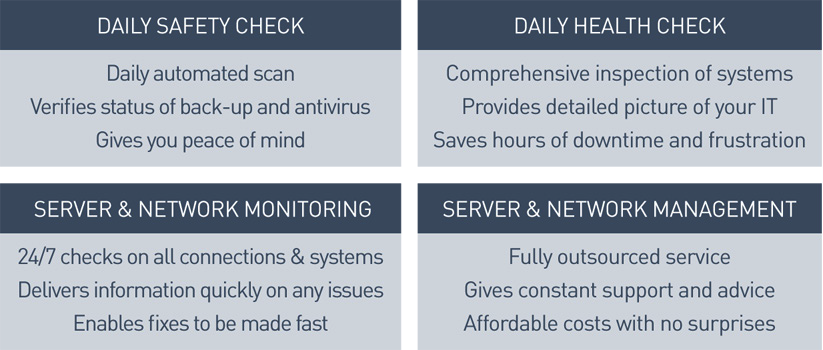 From automatic back-up and antivirus checks to full systems diagnosis and reporting, your IT infrastructure will be taken care of, freeing up your time to focus on growing your business.
How does it work?
Getting your systems protected is easy. There is no hardware to install or any training required. Simply give our Managed Networks team a call now and they will have you up and running in no time.
You can choose the level of service you'd like, and build it up a step at a time, or you can take all four services for maximum protection and minimum downtime.